TASTES OF THAILAND
(Jeff & Nancy's favorite recipes from Thailand)
Check back periodically for other recipes.
---
Thai cuisine is a surprising blend of sweet, sour and hot flavours. Small amounts of individual components blend to create the subtle yet distinctive flavours. Speciality Asian food stores as well as some greengrocers and supermarkets stock some of the more obscure ingredients used in Thai cookery. If you live near a city that has a Chinatown, there are wonderful stores waiting to be explored, not only for ingredients, but also for woks and steaming baskets. Don't fret if you do not have the correct utensils, you can make do with yours.

---
Below is a list of various ingredients used in Thai cooking, some you will recognize and others you will not. Each ingredient will be followed by a brief description and substitutions (if any) that may be used.


---


Barbecued Pork: These are spit-roasted cuts of pork, available a specialty Chinese barbecue shops. Honey-smoked ham can be substituted.
Basil: There are 3 varieties of basil used in Thai cooking. Bai Horapha tastes like anise, looks like sweet basil and is used in red & green curries. Bai Manglaek has a lemony flavour, tiny leaves and is usually sprinkled over salads & soups. Bai Grapao has a clove-like taste and purple-reddish leaves. European basil can be substituted.
Tofu: Tofu is made from soya beans and is an excellent source of protein. It is sold in white blocks at most supermarkets, look for the 'firm' block. This is the fresh type and is used in soups, stir-fries & salads. Fried tofu is brown on the outside and is also used in the similar dishes. Tofu has the unique ability to absorb the tastes of other food that is cooked with it.
Bean Sprouts: Used mainly in salads and as a stir-fry vegetable, soya bean sprouts are crunchy, white, short sprouts.
Black Fungus: A Chinese ingredient used in some Thai dishes. It is a member of the mushroom family, available in dry form, and looks like dried, black, wrinkled paper. Soak in water for 10minutes.
Chinese Dried Mushrooms: Add a distinct flavour to the dish. Need to be soaked before use since they are sold in dry form. Available at any Asian market.
Cardamon: An Indian spice. Available in whole seeds, pods, or ground. Has a strong flavor. Used in some curries.
Chillies: There are many chillies to choose from, green & red, small ones tend to be hotter. Take care when handling, use rubber gloves and don't touch you eyes. Some chillies are dried and need to be soaked before using.
Chilli Jam or Paste: Chilli jam is a sweet and sourish tangy jam that is sold in jars at Asian food stores. Used in sauces, stir-fries and soups. Refrigerate after opening.
Chinese Cabbage: Elongated in shape (Rugby ball-shaped). Has pale green leaves and a slight mustard flavor. Most large supermarkets carry this.
Coconut Milk, Coconut Cream: Coconut milk is extracted from the flesh of fresh coconuts, it is not the clear liquid in the coconut. Canned coconut milk is easy to find in the supermarket and is the easiest route to take. If you desire to make it fresh contact us and we will email you seperate instructions on the process.
Coriander: Also known as cilantro, the most common herb used in Thai cooking. The whole plant is used--the root, stem and leaves. Find this at an Asian grocer or int'l supermarkets.
Crisp Fried Onion and Garlic: Finely sliced garlic cloves and onions that have been deep-fried until crisp. Used for soups, salads and noodle dishes.
Cumin: A spice (not a spice girl). Available in seeds or ground powder.
Dried Chinese Dates: Sweet and salty dates used in soups and casseroles, available at Asian food stores.
Fish Sauce (Nam Pla): A brown salty sauce with a 'fishy' smell is an IMPORTANT ingredient in Thai cookery. Available at Asian food stores and larger supermarkets. Don't let the smell discourage you, the taste is heavenly!
Galangal (Laos): Related to ginger and looks quite similar, but is pinkish and has a peppery flavour. Dried Galangal must be soaked in hot water before use. Try the Asian food store for this.
Garlic Chives: Garlic-scented, flat-sided thick chives that have an edible flower.
Ginger: IMPORTANT in Thai cooking, Buy firm, unwrinkled and store in a plastic bag to prevent drying.
Golden Mountain Sauce: No, not the run-off from the pasture of cows. This is a thin, salty, spice sauce that is made from soya beans but doesn't taste like soy sauce. It is available from Asian speciality shops. Maggi Seasoning may be substituted.
Green or Pink Peppercorns: Peppercorns that are bottled or canned in a brine. The peppercorns should be drained and rinsed before use.
Kaffir Limes & Leaves: A knobby, dark-skinned lime with a very strong lime fragrance and flavour. The leaves are finely shredded for use in curry pastes and salads. The rind can also be grated into soups, salads, etc... If these are not available, regular limes will suffice.
Lemon Grass: Used in curry pastes, soups and stir-fries. Trim the base, remove the tough outer layers, and finely slice, chop, or pound the white interior. For pastes and salads, use the tender, white portion just above the root. The whole stem, trimmed and washed may be added to simmering soups and curries.
Lychees: A small oval fruit the size of an unshelled walnut, with sweet, pale pink flesh and a thin knobby, reddish skin.
NOODLES: 4-Types: 1.Fresh Hokkein (wheat) noodles: Found in refrigerated section of supermarket or Asian food store. 2. Rice Vermicelli: are white and folded into a block. Their thickness & width vary. Need to be soaked in hot water until soft and then well drained before using. 3. Bean Vermicelli (cellophane noodles): Fine, string-like, dried transparent noodles made from mung beans. They have a firmer texture than the rice noodles. Cooked in boiling water, cooks quickly and then drained. 4. Rice Stick Noodles: Flat and sold in bundles and used in stir-fries and soups.
Oyster Sauce: Made from dried oysters.
Palm Sugar: Thick and crumbly. Soft brown sugar may be substituted.
Rice Flour: Flour made from rice.
Shrimp Paste (Blachan): Sold in blocks. Does not need refrigeration.
Spring Roll Wrappers: Paper-thin wrappers available fresh or frozen to make spring rolls.
Tamarind: A tart-flavoured pulp that comes from the tamarind tree. IMPORTANT ingredient in Thai cooking. Available as a puree or pulpy solid that needs to be soaked, kneaded and seeded.
Tumeric: A bitter spice used for its intense, bright yellow-orange colour. Readily available in powder form.
---
WHEW! Glad that's over, now for the reason you are here...the RECIPES! YEAH!

---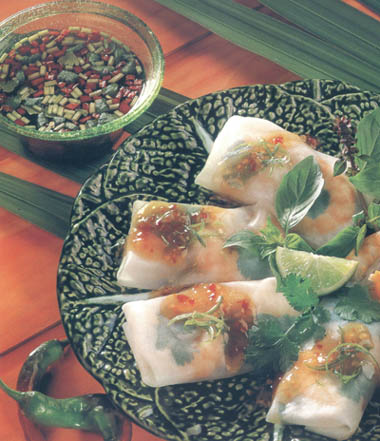 FRESH SPRING ROLLS


Ingredients:


50g dried bean vermicelli noodles
2 cups hot water
8 dried rice paper wrappers
16 medium cooked prawns or shrimp (peeled)
16 fresh Thai basil leaves
1 cup fresh coriander leaves
1 medium carrot, cut into short thin strips
1 tablespoon grated lime rind
2 tablespoons chilli sauce
---
Dipping Sauce:


1/3 cup cold water
1 teaspoon sugar
2 tablespoons fish sauce
1 tablespoon white vinegar
1 small red chilli, finely chopped
1 tablespoon chopped coriander leaves and stems
---
Directions
1. Soak the bean vermicelli in the hot water for 10 min. and then drain. Dip a rice paper wrapper into lukewarm water, allow to soften and place on a work surface. Place 2 prawns (shrimp) side-by-side in the center of the wrapper and top with 2 basil leaves, 1 tablespoon of coriander, a few carrot strips, a little lime rind and a small amount of rice noodles. Spoon a little chilli sauce over the top.

2. Press the filling down to flatten it a little; bring in 2 sides and roll up the parcel. Lay seam-side down on a serving plate and sprinkle with water; cover with plastic wrap. Repeat with remaining ingredients.

3.To make dipping sauce:Place the cold water in a small bowl; add the sugar and stir until it dissolves. Stir in the fish sauce, vinegar, chilli and coriander leaves and stems. Serve the spring rolls with the dipping sauce. Enjoy! (Makes 8)


---
---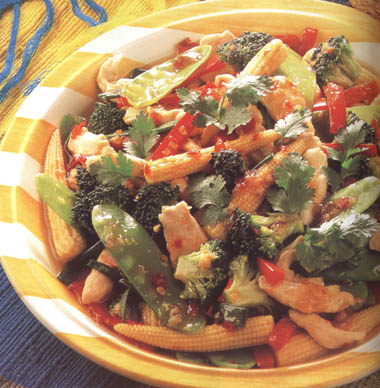 CHICKEN & VEGETABLE SALAD
2 Chicken Breasts
1 cup water
3 slices fresh ginger
2 stems lemon grass (white part only), roughly chopped
2 tablespoons fish sauce
250g broccoli, cut into florets
150g fresh baby corn spears
100g snow peas, trimmed
1 red capsicum, cut into strips
3 spring onions, cut into strips
1/2 cup chilli sauce
2 tablespoons honey mixed with a little water
2 tablespoons lime juice
2 teaspoons grated lime rind
1/4 cup fresh coriander leaves

Directions
1. Slice the chicken into short, thin strips. Place the water, ginger, lemon grass and fish sauce in a frying pan. Bring the mixture to boil and simmer for 5 min.

2. Add the chicken to the pan and cook in the hot liquid for 5 min., stirring occasionally until the chicken turns white and is cooked. Drain and allow to cool. Discard liquid.

3. Bring a large pan of water to boil and cook the broccoli, corn, snow peas, capsicum and spring onions for 2 min. Drain and plunge into ice cold water. Drain.

4. Combine the chilli sauce, honey, lime juice and rind in a small bowl and mix well. Arrange the vegetables and chicken on a serving platter. Pour the sauce over the top and gently toss. Sprinkle with the coriander leaves. Enjoy! (Serves 4-6)


---
SOFT PRETZELS